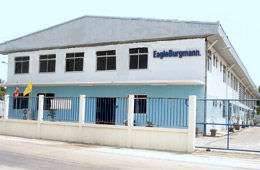 Company profile
EagleBurgmann (Thailand) Co.,Ltd., founded in 1997, is an importer, manufacturer, and service provider of mechanical seals and sealing solutions for pumps, agitator, compressors, static seals, and stuffing box packing. Besides our existing range of products and services, we offer a com­pre­hen­sive package of services under the motto "For every application the right seal, from static right through to highly complex dynamic systems". We shall remain your competent and reliable partner in all matters in the field of sealing technology.
Our services for our clients
A highly motivated team, a range of well selected excellent products and our cus­tomer-ori­ented service form the basis of success for the cooperation with our customers. We always welcome the opportunity to demonstrate our capabilities in the provision of giving technical and commercial advice about design, selection and rec­om­men­da­tion of seals itself, their application or in the after-sales service.
Over and above this, EagleBurgmann Thailand offers you
Production of Mechanical Seals, pump repairs
Installation, commissioning, overhaul and repair of mechanical seals and supply systems
Warehouse comprehensively stocked with complete seal systems and our facility carries over 16,000 different spare parts.
Technical support and training courses Our Quality for your Advantage
As early as 1990, EagleBurgmann became the first seal man­u­fac­tur­ers to be certified to ISO 9001. And 2010, we certified the standard of ISO 14001 and OHSAS 18001.
EagleBurgmann products guarantee the very highest standards of safety and reliability and are used in virtually all industrial sectors. High quality and en­vi­ron­men­tally friendly solutions are the absolute priority at EagleBurgmann.